Guitars for trade for a

vintage Les Paul

If you have a Paul for trade or can put a deal together to get one, please email me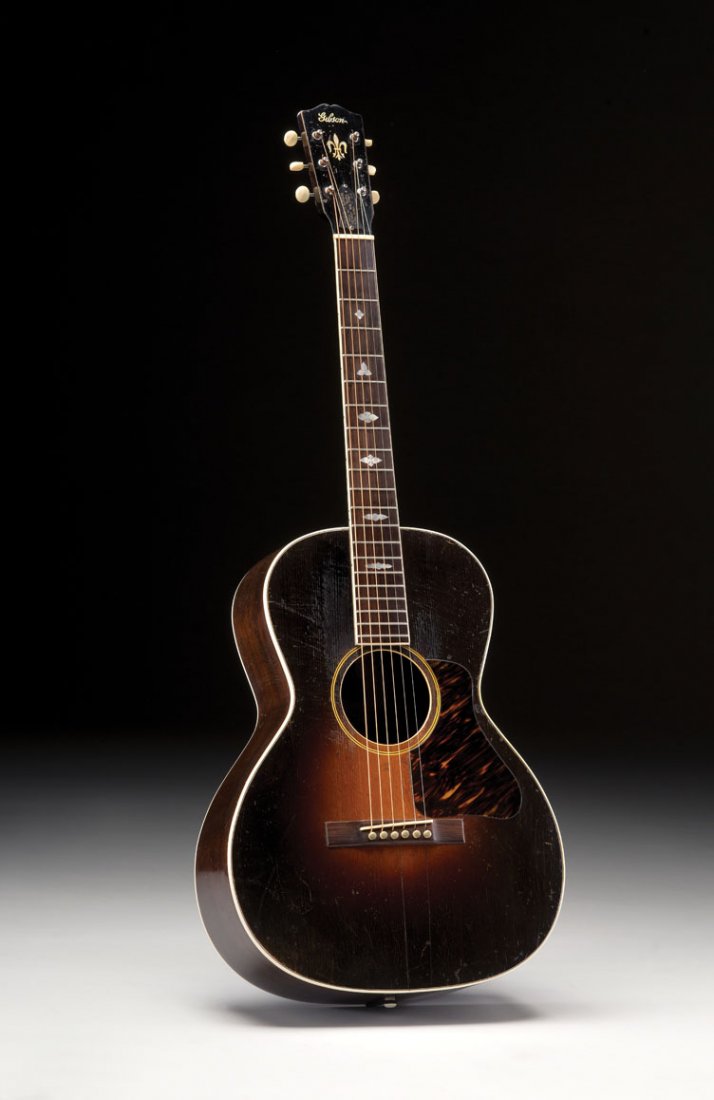 1933 Nick Lucas Special owned by Carson Robison.

In Gibson's original shipping records, the 2544 FON stamped on this guitar's neck block is accompanied by the description "deluxe flattop".
FON: 2544 stamped on neck block
Top: Spruce, sunburst finish
Back and sides: Mahogany
Neck: Mahogany
Fretboard: Rosewood
Frets: 20
Bridge: Rectangular rosewood pin
Tuners: Open gear three-on-a-plate with white plastic buttons
What makes this Nick Lucas Special even more unique is the fact that it originally belonged to another important 1930s guitarist named Carson Robison, whose name and New York address appear on the engraved truss rod cover and guitar's case. |

Robison was an important country music singer-songwriter who recorded and performed from the 1920s through '50s, and wrote and recorded over 350 songs. He toured the world twice, playing for the Queen both times in London.
Carson in credited for having originated the singing cowboy entertainer and originally gained notarity for his amazing whistling skills that can be seen today on many of the videos on YouTube.

His name also appears on several Recording King Carson Robison models introduced during the '30s, including the 926 (also known as the Model K), which is a much simpler version of this particular guitar and was introduced in late 1933.
I have collected original photos, songbooks and other materials that document the instrument and come with it.
It plays awesome, very nice action across the entire length of the neck and has a big bold sound. Plays like butter and barks when you want it to.
Carson kept it in amazing condition considering it went twice around the world with him. There are some very old water stains on the inside of the case but no
such markings or affects on the instrument itself. I do not believe there have been any repairs to the instrument since he himself had them done. There are no 'new' cracks.
It was sold to a collector in 2001 by Bernunzio's in NYC for $25,000.
retail: $40-$50,000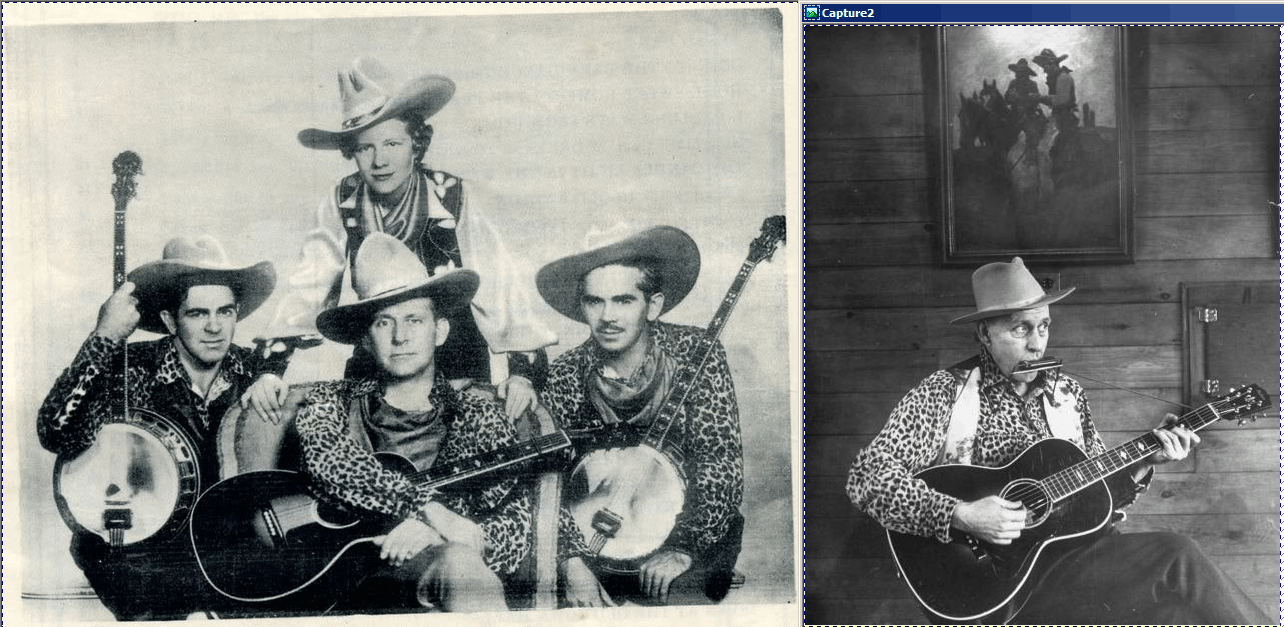 Originally, the guitar had banjo tuners which Carson replaced in the early 1950's as you can see on the right.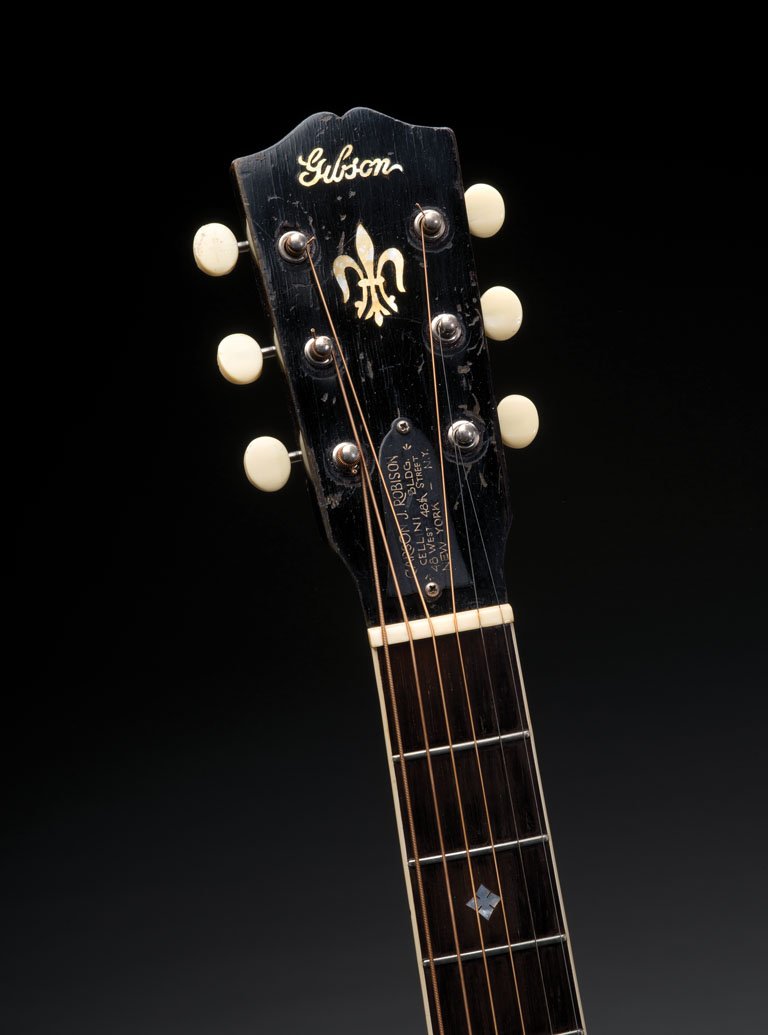 personalized truss rod cover and the same inscription in silver on his original case that I do not have a picture yet.
-------------------------------------------------------------------------------------------------
1935 Gibson Roy Smeck Stage De Luxe (Batch Number 65A XX) is one of a small group of 3 or so known rosewood body versions of the normally Mahogany bodied Stage De Luxe model. The Indian rosewood body comes from a batch of early 1935 Radio Grand models and the neck is a factory installed Stage De Luxe neck. While about 400-600 of the Stage De Luxe models are estimated to have been produced, probably less than 100 of the rosewood Radio Grand models were made.

The conversion involved keeping the original 2 1/8″ neck width and profile intact and installation of frets, new bridge, and refinish of the entire body and rear of the neck. The original clipped plate 6:1 Grover tuners work well and smoothly. The Brazilian rosewood fingerboard is matched with the replacement Brazilian rosewood bridge. The back may have been skillfully removed to repair the six top cracks and then re-attached. The voice is rich and solid in the low end, with a characteristically colorful upper midrange and treble response. The feel is easy and not stiff at all. But it's a very wide neck and playing beyond the first position takes some time getting used to. But the sound on this instrument is amazing and would lend itself especially to bluegrass bands.
But its true charm is playing slide guitar of course as all Smeck's were Hawaiian guitars to begin with.
The action and especially the width of the neck is very very comfortable for this. Derek Trucks plays a Stage Deluxe and you know how that sounds.
Now imagine that with a rosewood body!
With 1970s era Gibson hardshell case.
retail: $18,500-$20,000 (rosewood body)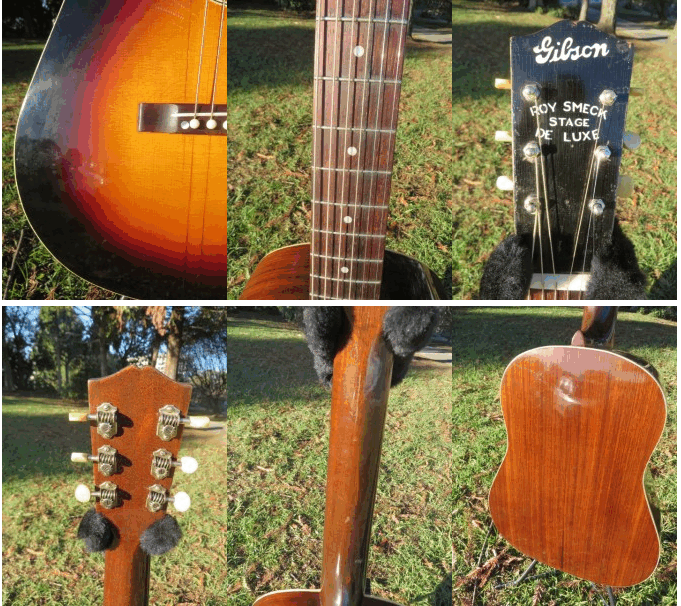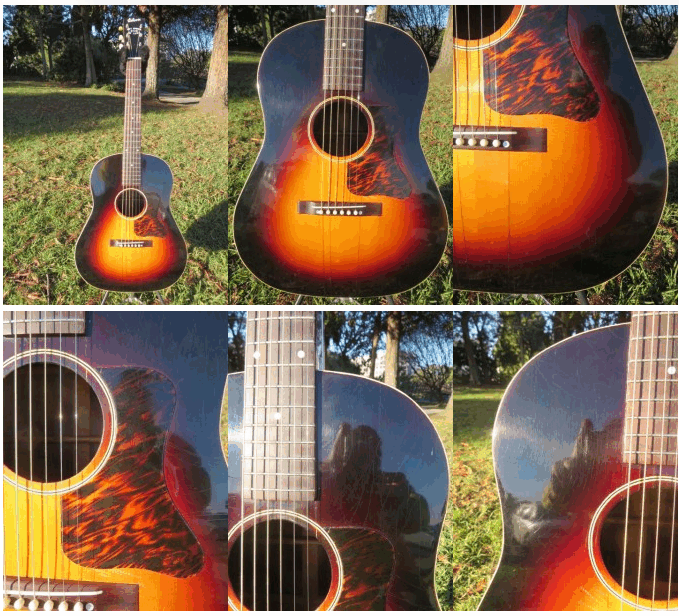 1955 Gretsch 6131 Jet Firebird
In wonderful condition. This guitar was featured in Premier Guitar Magazine in the November 22, 2017 issue
Does not have the original case, has a modern 1980's era Gretsch case.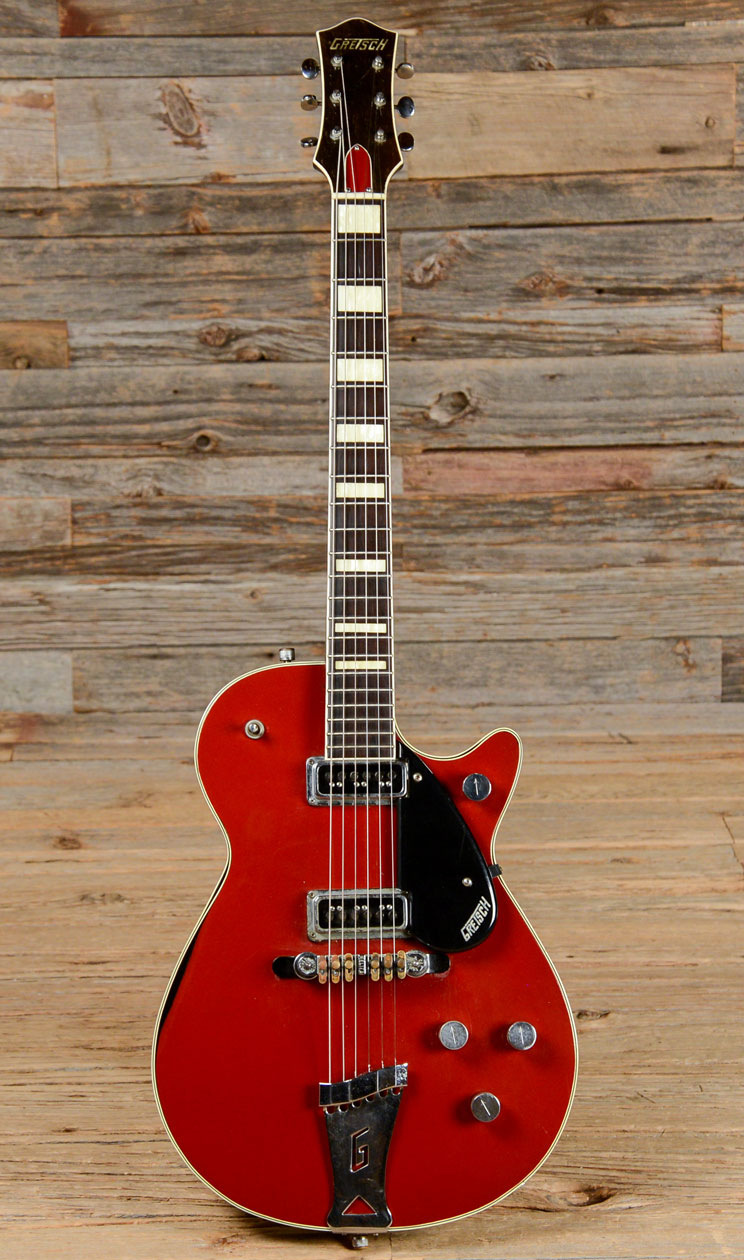 +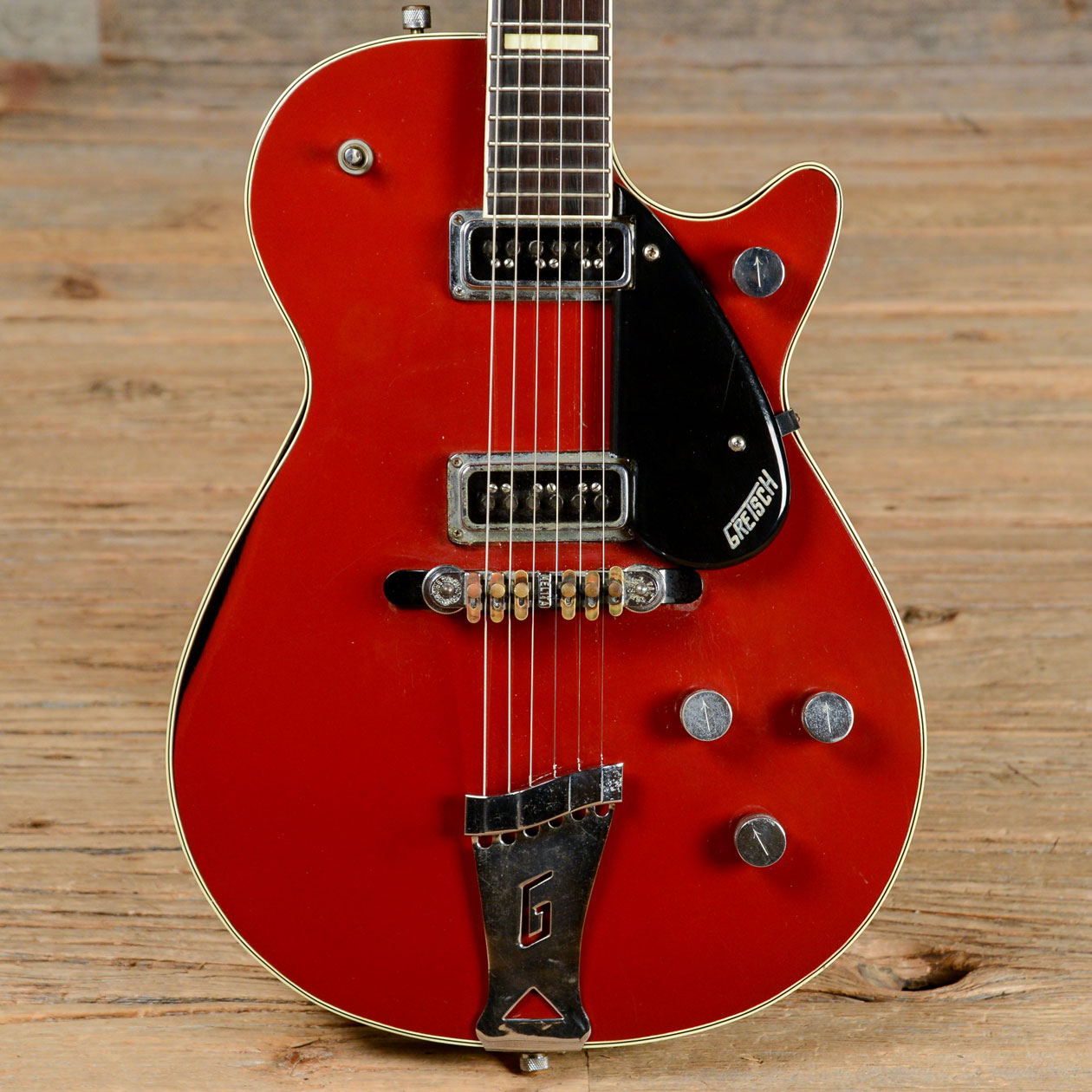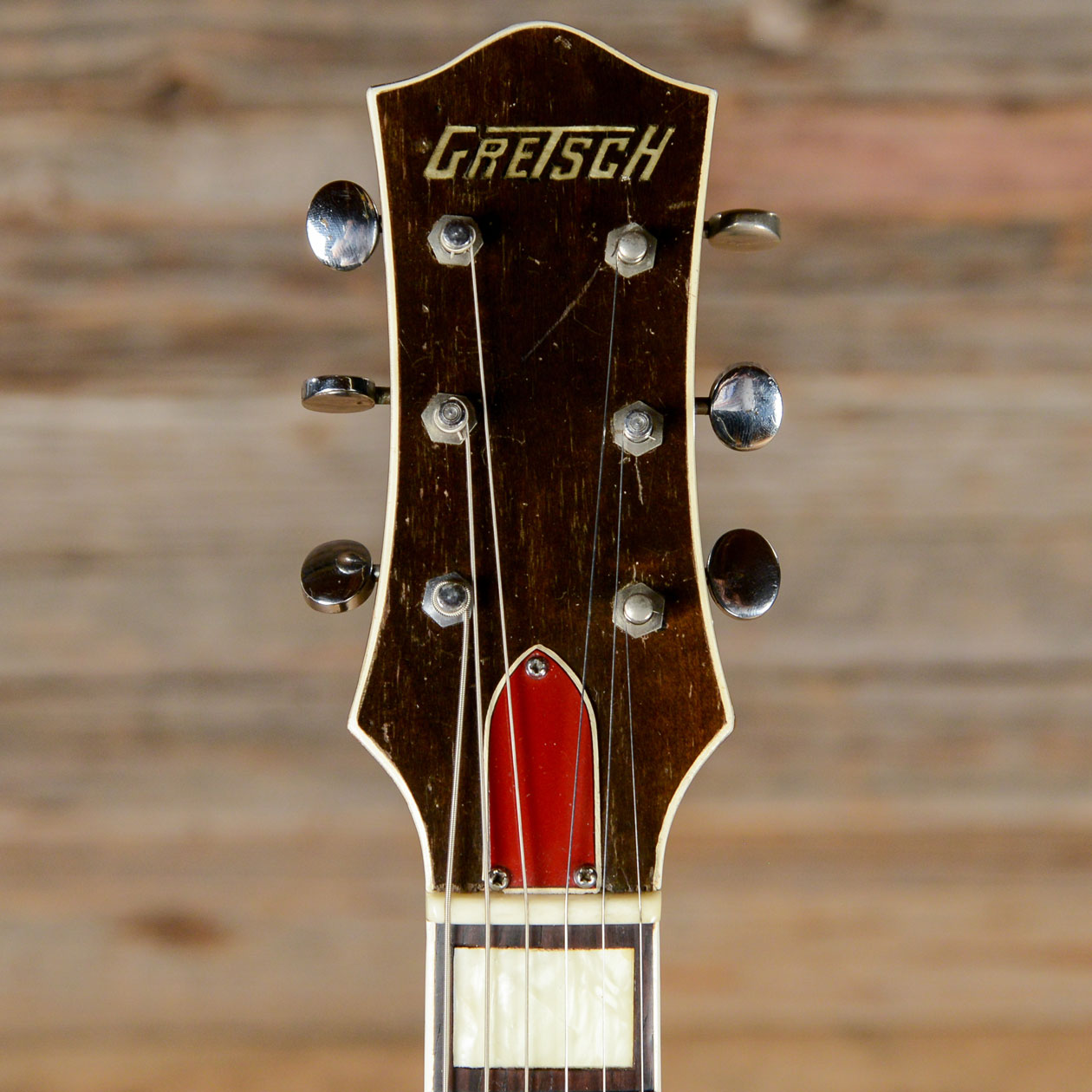 retail: $7500-9000
If you have a Paul for trade or can put a deal together to get one, please email me at
theboss@humanrace.org